Warriors Rankings: Baron Davis, PG #3
Point guard. The quarterback. The catalyst. The leader. The man. Point guard is my favorite position to play and watch. Back in the day,
Tim Hardaway was my favorite PG
and to me, he epitomized the leader who could get everyone involved but takeover when the team needed him most. No other position has as much influence on the game as point guard does. A true PG brings the ball up the floor, starts the offense, passes to the open man, drives and creates, and most importantly, puts the team before him.
As we all know, in the last third of the season Baron Davis brought all of this and more to the Warriors. What else did he bring? Hope. People believe in the Warriors. There's a buzz around the Bay Area and the nation that this might be the year the Warriors make the playoffs. It's all because of #5, the supposed injury prone malcontent on the Hornets. For those who don't believe, they have a right not to. 11 years of futility generally causes skepticism. But this year is different, a whole lot different. We're pinning all our hopes on Baron, we will live and die by his decisions and more importantly, his health. Let's get to the rankings:
1) Allen Iverson , Philadelphia 76ers
There are hardly any players regardless of position that I would take over AI, let alone another PG. Since his move last year to the PG position he averaged 8 assists per game while scoring 30 per. His FG% last year was the second highest of his career and highest since 1997. He creates so much havoc on offense and defense with his cat quick footwork and speed. Few players have the skill that AI has but even fewer have as much heart as he does. As much as people bash him for his turnovers or low shooting percentage, I believe part of it has to do with the surrounding players. If he had another star playing alongside him or a decent big man, his teams would be perennial NBA Finals representatives.
2) Jason Kidd, New Jersey Nets
JKidd is the best player out there that makes his teammates better. If you move on offense and get open, he'll find someway to get you the ball. His uncanny ability to find open teammates and control the flow of the game separate him from most other PG's. In addition to the offensive output, he plays good defense routinely stepping in passing lanes for steals that lead to fast breaks. He's brought the Nets to the Finals twice with Kmart and RJ, two players I consider to be highly overrated and a product of what Kidd can do for a player. This year Kidd's healthy and he's got RJ and Vince, so expect fireworks.
3) Baron Davis, Golden State Warriors


This may be considered too high especially with the reigning MVP below him. But I'm a Warrior fan and admit to being biased. It's an informed bias though. Not many teams could match the 15-5 record the Warriors put together at the end of the year last year. All a result of the PG. Additionally, he outplayed Nash in the two Warriors wins over Phoenix and outplayed Bibby in the two wins over Sacramento. Consider he did this all while out of shape and barely had any practice time to get to know the playing styles of his teammates. Skeptics cite his sometimes poor decisions. True, he makes some bad passes but he also will make that play that few other players in the league can make that will spark a run. Skeptics also point to his injury history after playing only 50, 67 and 44 games each of the past three seasons. But consider that he played every single game the previous 3 seasons and is now more motivated than ever to come back and play injured if necessary. Now that he's had a full offseason to get into shape and a training camp to know his teammates, expect big things, MVP-sized things.
4) Steve Nash, Phoenix Suns
Some people will ask, "What's wrong with Nash, why is he so low?" Well #4 ain't bad. I love his ability on offense. It might be ugly but he gets it done with assists galore. Like Jason Kidd, he has the ability to make those around him much better. He's so tough to contain as he plays the angles so well. But don't leave him open because he'll drain that mid-range jumper on you and occasionally step back and hit the three. He knows the strengths of all his teammates and he caters to those strengths. Basically he makes them look good. But it's his defense that holds him back in these rankings. If he played any defense, he could be #1.
5) Gilbert Arenas, Washington Wizards
Hey didn't you used to be a Warrior? We sure missed out on this guy. Too bad we couldn't get the deal done. Perhaps Baron wouldn't be here if we had resigned him, but with a more mature Arenas around we also might have made the playoffs the past couple years. He's blossomed in in Washington the last couple seasons and look for even bigger things this year. He's one of the fastest players in the league and as he improves on his decision making, this Arizona product will be a very very dangerous point man.
6) Mike Bibby, Sacramento Kings
Last year Bibby recorded a career high 19.6 points per game to go with his solid assist numbers. Look for him to keep up the scoring and increase that assist total with the additions of Bonzi and Shareef. If Baron gets injured and Nash stumbles without Amare, Bibby should be your Western Conference All-Star starter.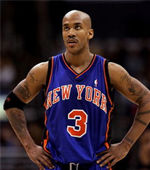 7) Stephon Marbury, New York Knickerbockers
Not many guys numbers compare with Steph. He averaged over 20 points and 8 assists last year. You know how many other guys did that? Zero. He doesn't get the props he deserves despite playing in NYC. Remember when he was with the Suns and they almost knocked off the Spurs in the first round? Yes, he was the reason for that near upset. Isaiah, give him a supporting cast! Eddy Curry, Jerome James, they don't count.
8) Chauncey Billups, Detroit Pistons
Everybody talks about how Chauncey will be given a much longer leash now that LB is gone and Saunders is in. He's got the skills to improve on his points and assists, let's see if he does. He comes up big in the playoffs, let's see if he can match those numbers in the regular season.
9) Tony Parker, San Antonio Spurs
The rings are nice aren't they Tony. I'm sure Eva was even nicer. Seriously though, this guy has played surprisingly well in the Finals. He's stayed under control and kept that team going during the big games. Sure Timmy D had a lot to do with it, but when Parker leaves the game, the Spurs aren't the same. Based on his numbers, he should be further down the list, but based on his wins, he gets a nice bump up the list.
10) Joe Johnson, Atlanta Hawks
He's more of a 2-guard playing the point given that he's 6-7 and looks to shoot first, shoot second, and pass third, but he's definitely talented enough to run a team. He'll set career marks in all categories, but they'll need his decision making skills to improve to have any success this season. Hopefully he learned a thing or two from Nash.
11) Brevin Knight, Charlotte Bobcats
This is probably a little too high, but I love his game. Averaged nearly 10 assists per game last season on a squad without any great scorers. I wish some team would give him a chance to play big minutes despite his small stature.
12) Andre Miller, Denver Nuggets
Wasn't it only a few years ago when he was considered the next big point guard? Back in 2001, he averaged 10.9 assists to go with 16.5 points. He then signed a big deal with the Clips and disappointed with 6.7 assists and 13.6 points. The move to Denver has not changed much, but he still remains a solid point guard capable of close to 35 minutes a game.
13) Kirk Hinrich, Chicago Bulls
He's the leader of that Bulls squad and is emerging as a very solid all-around guard with the ability to pass, rebound, defend and score. In a few years, he could crack the top 10.
14) Jason Terry, Dallas Mavericks
Back in his Atlanta days, he was a premier point guard. His numbers have fallen off recently after the move to Dallas, but he can't complain, he's routinely in the playoffs. He can still put up points and run that team, so look for another solid year from Terry.
15) Jamaal Tinsley, Indiana Pacers
Tinsley's scoring numbers will go back down with the return of Stephen Jackson and Ron Artest, but his assists could increase. If he can stay healthy (he's missed a combined 72 games the past two years), he'll put up nice numbers and the Pacers will be in a much better position to challenge for the East title.
16) Sam Cassell, Los Angeles Clippers
His age seems to finally be catching up with him. He played big in Minnesota's playoffs run a couple years ago, but last year he fell off and was promptly traded to the Clips. If he plays up to his All-Star form of a couple years ago, look out for the Clips, they could be really good. But more realistically, look for him to show the young Livingston how to run the point with Livingston possibly taking over later in the year.
17) Damon Stoudamire, Memphis Grizzlies
Mighty Mouse has declined in these later years, but he still puts forth a solid effort night in and night out. He'll get you about 6 assists per game and score in the mid teens. He's a slight upgrade over Jason Williams.
18) Jason Williams, Miami Heat
I loved White Chocolate when he was with the Kings. He was always a highlight reel waiting to happen. Unfortunately, he never could balance his flair for excitement with a controlled game. He's still a solid PG with a toned down game, but his decision making still needs work. Him and GP in Miami should make for an interesting situation.
19) Chris Paul, New Orleans Hornets
Paul has played very well in the preseason, averaging 10.6 points, 6.4 assists, 4.8 rebounds, 2 steals, and 1.4 threes. Look for him to win Rookie of the Year and ignite this Hornets team. They won't be any good, but Paul will be fun to watch.
20) Rafer Alston, Houston Rockets
If this were a PG ranking of street ballers, Skip would be #1. Unfortunately, we're looking at NBA players. Skip gets mad props though for refining his game from the streets to be able to run a pro team. He struggled in his early days bouncing around from team to team, but the last couple years has seen him really put it together and become a solid NBA point guard.
21) T.J. Ford, Milwaukee Bucks
TJ was set to take this league by storm coming out of Texas. He had the quick, explosive drive and the speed to get up and down the floor. He caught a bad break with the collarbone injury and has missed the last couple years, but he's back. I loved him at Texas and I wish him the best in Milwaukee. If he stays healthy, look for him to move up this list, he has the talent crack the top 15 by the end of the year.
22) Sebastian Telfair, Portland Trailblazers
Bassy is ready for a breakout year. He played well at the end of the '04-'05 season, and will look to build off of that. Along with Livingston, Paul, Williams, and Ford, Telfair is helping lead the new wave of young PG's in the league. Only in his 2nd year, he'll lead this Blazers squad, but unfortunately, they'll wind up back in the lottery.
23) Mike James, Toronto Raptors
I feel bad for this guy. He goes from dishing the ball to TMac and Yao and a sure-fire playoff team to having to pass to JRose and Bosh and a sure-fire lottery team. I'm not sure why YaoButtaMing loves this guy, but maybe he's right and Mike James will blow up when he gets starter minutes.
24) Luke Ridnour, Seattle Supersonics
Honestly, I'm not really a fan of his game. I enjoyed watching him at Oregon, but when I have watched him play in the pros, I don't see anything special. He's still learning and growing, so maybe he'll impress me this year.
25) Deron Williams, Utah Jazz
This hyped rookie will probably struggle in his adjustment to the league, but he's got a great coach in Jerry Sloan to tutor him. Maybe Stockton will come by and show him a thing or two.
26) Marko Jaric, Minnesota Timberwolves
His injuries have always held him back from making a consistent difference. When he does play, he racks up the assists and steals. Hopefully he can get the ball to KG this year.
27) Damon Jones, Cleveland Cavaliers
He's not really a PG but he's listed as the Cavs starter. That #23 guy will be handling the rock most of the time and Hughes will too. Jones isn't there to be a playmaker, he's there to shoot the rock which he does very very well.
28) Delonte West, Boston Celtics
He surprised me last year with his ability to play handle the team. Him and Dickau will share the PG duties on the young Celtics team. Don't expect him to do anything big though.
29) Keyon Dooling, Orlando Magic
So the Magic would rather have this Clippers reject run the point rather than Steve Francis? What about Jameer Nelson? You've got to be kidding me. This guy hasn't done anything of note in his previous years. Put Francis at the 1, go grab a shooting guard and you're probably better off. Bash Franchise's decision making all you want, but he almost knocked off the Lakers in the playoffs. Wait this is supposed to be about Dooling. Hmmm, how about, he's not that good and doesn't deserve to start.
30) Aaron McKie, Los Angeles Lakers
Remember when he was a defensive stopper next to Allen Iverson on those 76er playoff teams? He really shouldn't be starting anymore, but the Lakers really don't have anyone else. Smush Parker? Sasha Vujacic? If I were Phil, I'd start McKie too.
Where should Baron be ranked? What are your thoughts on these rankings?
---