2005: Warriors Best and Worst
2005 has been an interesting year for the Warriors. They made About.com's
Top 10 NBA Moves of 2005
as well as their
Top 10 Worst NBA Moves of 2005
. I'm sure you can figure it out, but here's what they had to say:
Warriors Best
Warriors Bring Baron to the Bay




The hardest thing to do in the NBA is turn a perennial loser into a winner. The Golden State Warriors made their strongest strike yet at ending an 11-year run of ineptitude by acquiring dynamic point guard Baron Davis from the Hornets for Speedy Claxton and Dale Davis. A pittance to pay for the dramatic 18-10 turnaround that Davis brought about in the Bay last season, and a healthy start to the 2005-06 season that has the Warriors on pace for their first 40-win season since 1994.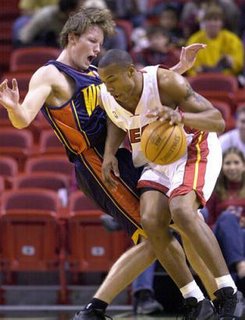 Warriors Worst
Warriors Break the Bank for Mike Dunleavy




The lengths that some NBA teams will go to avoid admitting mistakes is mind-boggling. Mike Dunleavy looked the real deal coming out of Duke, but the "ace shooter" delivered 10.2 points per game on 37.2% shooting from outside in his first three seasons. In the Warriors' world, that makes a man worth $44 million. Hey, you can't let that 10 a night go to the competition! Why do we care so much about other people spending crazy money? Because we're willing to be an NBA GM for only $50,000 a year.
Before the season started they topped their list of
Top 10 NBA Players In Need of a Change
with Mike Dunleavy:
1) Mike Dunleavy, Golden State Warriors




Dunleavy was the No. 3 pick in a 2002 Draft class that's been entirely hit-or-miss. In most cases, lack of playing time and constant change of addresses have been the root of evil. On the contrary, Dunleavy's been given every opportunity to succeed, yet just hasn't developed into a complete player. Meanwhile, Golden State has continued to awesome talents who need time and touches, and the entitlement afforded a high-pick player is evaporating given his middling play.
Straight up: Mike's been a FLOP.
Like our man Ike would say- HAPPY NEW YEAR!
---