Dun 44 : Part III
We continue with the 3rd installment of our 4 part series (see
Part I
|
Part II
) :
44 Reasons why giving Mike Dunleavy 44million wasn't the brightest idea
23.
Uncontested! Wide Open!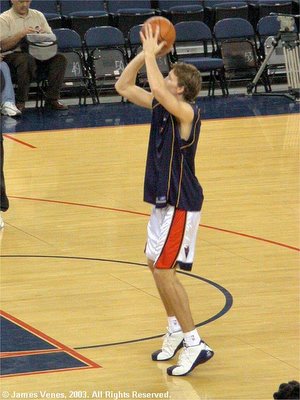 AIRBALLLL!!
24. He is too slow to run the Point.
All 2 of the Dunleavy fans out there think he can play 4 positions including point guard because of his dribbling skills. Dunleavy can dribble fine for a 4 or 5, but he's a 3. He's an average ball handler for an NBA swingman at best and below average for an NBA point guard. When he brings the ball up he gets trapped at half court, since he can't beat anyone off the dribble. This unnecessarily kills 3-4 seconds off the shot clock and results in some poor, forced shot attempts. Get the point?
25. His hair is never in style.
26. Throwing slow, wound up, telegraphed passes does not make you a "great passer".
For all the talk about how Dunleavy is a great passer, "Passleavy" has a career average of a little over 2 assists and 1.5 turnovers a game. Not exactly John Stockton-esque. Putting it in perspective, former Warrior fan favorite Antawn Jamison usually averages around 2 assists per game.
27. Bay Area residents will be subject to another 5 years of delusional, unwarranted, and annoying
"Dunleavy is so smart"
type praise from the Warriors TV crew.
Don't get me wrong- aside from the ridiculous Dunleavy lauding Fitz and Barnett are 2 of the best in the game.
28. Warriors fans don't exactly get a kick out of watching him play.

29. It's hard to win with the Warriors in NBA 2k and NBA Live with him in. He's costing in the video games too!

30. He's barely a star... on the middle school blacktop.

31. His basketball cards are worth exactly 44... pesos!

He has a "deep outside shot" of making this open shot.
32. This is how former Warriors GM feels about drafting Dunleavy #3.

By All Star break this is going to be how the Warriors current management feels about giving Dunleavy the unearned $44 million.
33. If this flight would take off...

we could see this one FLY-
---